Creator Shadow has ascended through the ranks of India's top developers as our hard-working team of knowledgeable experts has gained more and more recognition of late. In creating customized software, web, and mobile app solutions for our clients, the Creator Shadow team constantly strives to stay ahead of its competitors by providing exceptional work and stand-out service, each and every project.
This commitment to success has paid off by allowing Creator Shadow to earn a spot amongst the best .NET developers in India, according to a new ranking from Clutch. The B2B research and reviews agency scored our operations, market presence, and experience before awarding us with our spot in their 2019 research.
The most unique part of being profiled on Clutch is the opportunity to collect verified and unbiased reviews from our clients. Clutch actually calls and speaks with our partners to get their firsthand feedback on what it's like working with Creator Shadow. We have our first review on Clutch, and we're excited to share it's a perfect 5-Stars! Check it out: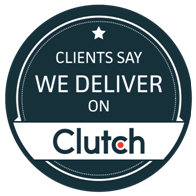 "They built a better website than what I had originally envisioned," shared one client, the owner of an ENT clinic in India. "Creator Shadow created a user-friendly and attractive website, which is now live. They delivered everything on time."
"It was a hassle-free and efficient process," our client continues. "Creator Shadow has strong web development expertise."
Sister companies to Clutch, The Manifest and Visual Objects similarly praised our capabilities.
Business news website The Manifest, which provides information about different trends and industries, has lauded Creator Shadow as one of the top mobile app development companies in India. Visual Objects, a platform that specifically showcases the portfolios of digital, creative, or design companies, now features our work and experience as preeminent software development companies on its site.
We greatly appreciate this support from Clutch, The Manifest, and Visual Objects and look forward to what new projects and partnerships the Creator Shadow team will take on. Our design and development skills are sure to bring any client to the top, and we welcome you to reach out to us to see for yourself!