Creator Shadow Software has been making quite a difference in the Indian development industry for over a decade now. Our team was built from the ground up in order to meet every possible need our clients might have in terms of development.
This approach gave us the flexibility to accommodate all sorts of different project types over the years. These varied experiences helped us learn the nuances of these project types and helped us make a name for ourselves in terms of versatility.
We are now the go-to team for any company that needs custom software, e-commerce, or mobile app development. But we are gaining ground in another area that we've invested a lot of time and effort into developing – PHP development.
For those unfamiliar, PHP is a side-scripting language and PHP development is the process of creating programs and platforms using that language. It's historically one of the oldest scripting languages but still retains its position as one of the most popular.
Many companies seek vendors who specialize specifically in PHP development because of the variety of things that can be done with it. It only made sense for us as a team to capitalize on the need of the market.
We began taking the necessary steps to brush up on this area of development and make it known to the world that such a service is available with us. Our team has recently scored some wins in that department as we've earned a few reviews to that effect on Clutch.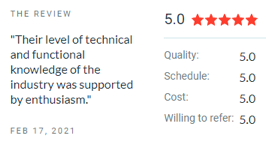 It helps that our clients were kind enough to give us a five-star rating for our work, as it accelerates us toward our goal of establishing a foothold in the industry. We want to be known as a one-stop shop in India for anything and everything development-related.
This is a big goal to strive for, especially for a relatively small team like ours. But we firmly believe we have the skills, knowledge, and expertise to pull it off. All we need is the chance to prove our merit in the PHP development stage and climb the ranks.
Discover what we can do to further improve your business by going to our website. You can also get answers directly from our team of experts, by contacting us through any of our available channels. We look forward to working with you very soon.