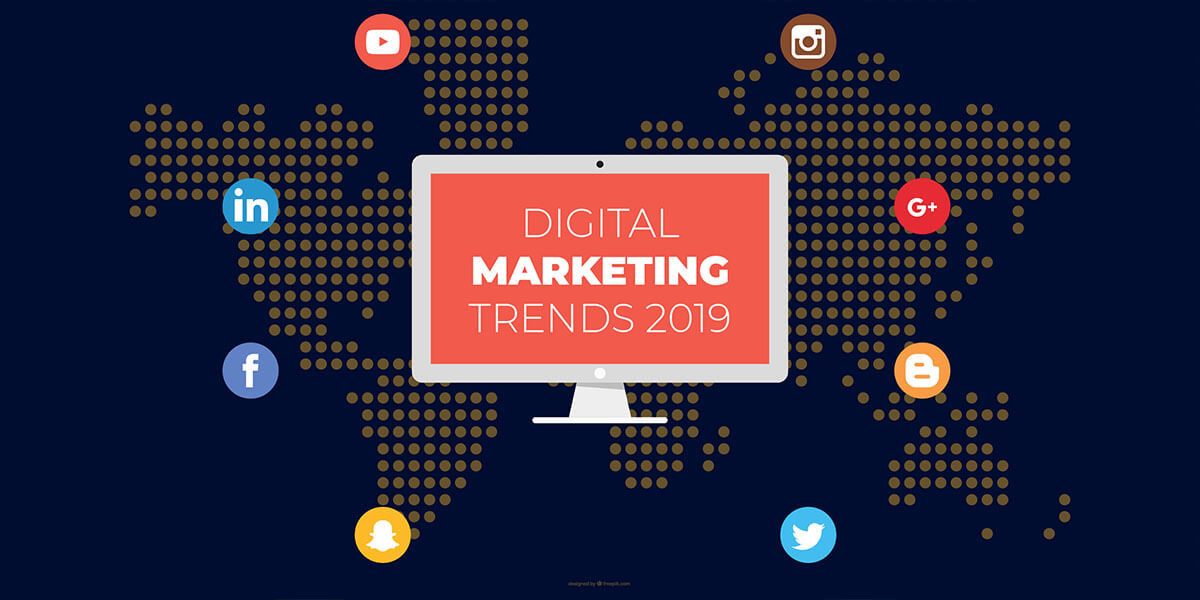 The New Year has just started and many people are eager to know about their future in the year 2019! However, predicting the future is a pretty difficult task that should best be left to the soothsayers. But we can certainly start taking some wise decisions to make our year better. So, if you are interested in knowing the future of your digital marketing exercises then this blog could help you in recognizing the best digital marketing trends to follow in 2019 and utilize them for enhancing your digital business. Here we will discuss the best trends in digital marketing that are either in the developmental stage or are expecting huge growth this year. By aligning your digital marketing strategies with such rewarding strategies will not only give you an early bird advantage but will also allow you to improve your business growth in 2019. Here are 6 such trends and techniques that you should know:
1. Mobile First approach
During the initial months of the last year Google came with its mobile-first indexing and this year the internet giant will take mobile indexing to the next level. So, making your website deliver a better experience to the mobile users can play a key role in determining your digital marketing success. Apart from being the major device for internet browsing the mobile also enjoys a significant position in the e-commerce sector as above 34% retail purchases are made using mobile devices.
Insights and Actionable tips
Strategic use of buttons and menus to support easy browsing can keep the mobile uses engaged and increases their stay period- a major ranking factor
Optimized mobile ads and minimalist design promoting more focused choices without distracting the users can delight the mobile users and play a vital role in successfully acquiring a potential opportunity.
Offering the dual option of online and offline purchase to mobile users is the more effective way of getting a better response from your mobile marketing strategies in 2019.
Add your business to relevant mobile apps. These apps not only increase the overall sales by delivering better-personalized experience but also enhance your business capabilities by offering you delivery or other user-friendly services
2. Be ad-wise to attract (and not repel) the users
Irrelevant ads irritate users and force them to use ad blockers and increasing use of ad blockers show that the internet is overflowing with irrelevant ads. During the year 2016, a whopping 600 million people installed ad blockers that show the pathetic treatment of irrelevant ads the above information is an eye-opener for the wise users- whether you are an advertiser or publisher.
Insights and Actionable tips
The stats show that around half of the internet users detest the brands utilizing such auto-playing visual or audio ads. On the positive note, many users would love the ads that offer them more flexibility of choice.
It is a good practice to make your video ads wisely integrated into the related videos on different channels. For instance, if you are running a food delivery app then it would be a wise decision to partner with food vloggers and place the video ad of your food delivery app in the middle of their videos.
Rely on short, chic and crispy ad content presented in an agile and precise manner. A good video and instantly connects with the audience and delivers the key points quickly with a clear takeaway.
Make ads according to the specific platforms. The video ads with youthful and engaging appeal can do better on facebook but for the professional networks like LinkedIn you need a more conservative appeal that emphasizes on key benefits for the viewers in quick can plain terms.
3. Be Millennial-friendly by cultivating deeper relations
Back in 2017, the millennial accounted for the total sales of $200 billion in the United States. The buying decisions of around 45% of millennial are guided by social media like Facebook, Instagram, and Snapchat. Thus your best brand ambassador is not the model or voiceover artist in the video or audio ads but the real customer who has purchased and used your products/services and holds the first-hand experience of your customer service quality.
Insights and Actionable tips
Spending a reasonable budget for influencer marketing campaigns can significantly improve digital marketing impact. Another major thing to keep in mind that you should choose the influencers wisely as this is an individual based marketing campaign.
Recognizing the loyal digital buyers of your products and services and offering them the opportunity to work as a micro-influencer can be a great way to enhance the digital marketing impact while saving a good amount.
Believable brand stories backed by sufficient evidence is another major way to connect with the clients, keep them engaged and shape their final buying decision. You can offer some good monetary returns or complementary gifts for such stories coming through the real users.
---
Continued to next article…
Read Next Article